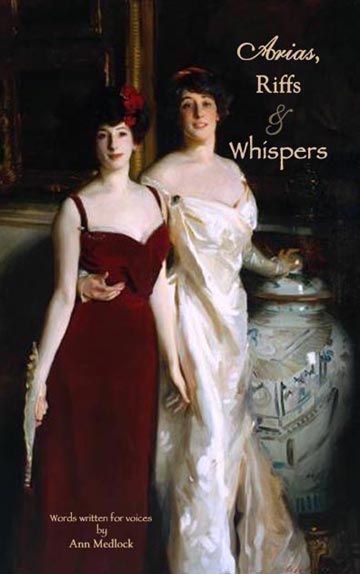 Arias, Riffs & Whispers: Words Written for Voices
"When a wise woman turns to poetry, witches become light, hills are lion women, a grandfather may be dangerous, and God's attention gets called to beauty. Join Ann Medlock in turning poetry into real life, and real life into poetry." — Gloria Steinem
"Beware! These poems stay with you for days—they affect the way you see your world and your place in it. Ann Medlock is a life force; it's rare to know one. Here's your chance." — Goody Cable, creator of the Sylvia Beach Hotel, a reader's paradise
"Ann Medlock's poems achieve an almost impossible perfection: they are impassioned and witty, profound and serenely beautiful, elegant and colloquial. Quite simply, they represent language at its finest." — Andrew Carroll, editor of 101 Great American Poems, co-founder of the American Poetry & Literacy Project
Arias, Riffs & Whispers: Words Written for Voices is a collection of 70 poems that range from witty, short riffs to full-blown dramatic arias about war, art, heroes, life, death, God, music, love--the stuff and substance of being alive.
Ann Medlock is founder of the Giraffe Heroes Project. She blogs at the Huffington Post, at OpEdNews and on her own web site. A former speechwriter to US politicians and to the Aga Khan, she has also been a public radio commentator, a freelance copy writer, and an editor at Macmillan. She has spoken to audiences all over this country as well as in Moscow and Beijing.
Author's Note: The Amazon site is saying they don't have many books. Not true. Last time I looked they actually had 90. Go ahead and order however many copies you want. Just not 91.