Poems
I wrote poems for years without calling them that, without seeing myself as a poet. I stuffed them into drawers. Left them in computer folders. Nobody knew. I hardly knew myself. They didn't matter. Then I wrote some words as a gift to the people of Star Island NH, the temporary community of UUs (Unitarian-Universalists) with whom my sons and I spent a week every summer. I posted those words on a bulletin board there. Back in NYC I got a package in the mail. Someone had spent hours making an art piece from my words. "Unsaid on Star Island" meant enough to him to do that. Interesting. I still stuffed my scribblings in drawers. Years of working on the Hedgebrook board to foster women writers' voices finally got to me in 2003. I was about to be 70 and no one had heard my voice. I could hear my NY editor T George Harris saying, "Oh just bareass it, Medlock." Knowing I had to take my shot, I created Bareass Press and Pagemakered a book of 70 poems, calling it Arias, Riffs & Whispers, Words Written for Voices. (Still not "poems," you see that?) My 70th birthday celebration was a coming out party – five great actors reading from the book – it was terrifying to go bareass, letting people into that so private world. And it was wonderful. There are words here from Arias, and there will be more as I add them from time to time, with images that would have been too expensive on paper. There are others that are "unpublished," but I've stopped stuffing new pieces in drawers – I'm putting them here. And they are poems. I am a poet. Now that feels really bareass.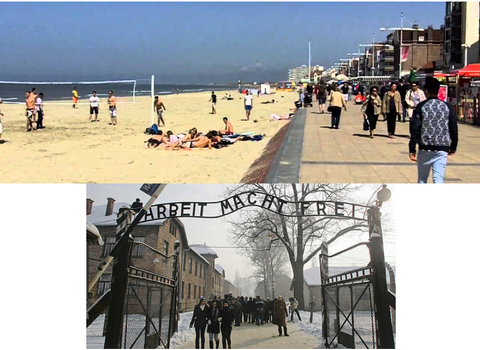 This cannot be Dunkirk.
Dunkirk is where stukas strafe
the beach and water as Tommies
wade out to the trawlors and yawls
that have come cross channel to take them home.
There cannot be changing cabanas
and soft drink vendors at Dunkirk.
Arbeit macht frei is still above the gate
as we are urged onward not by SS officers
or sondercommandos – by tour guides.
We are actually free to turn and stroll away
back to room service and down comforters
and to our tickets home. In this time
a trip to this place does not end in an oven.
Reach through the decades. Pull them into now.
Here Reggie, have a beach towel and a citron pressé.
Samuel, Rachel, walk away from this place where
you did not die. Live to meet your grandchildren.
The Management apologizes for the mistake.
You were not supposed to be in this water,
on this ground, in those most regrettable moments.
We hope there are no hard feelings and look forward
to doing business with you at your earliest convenience.