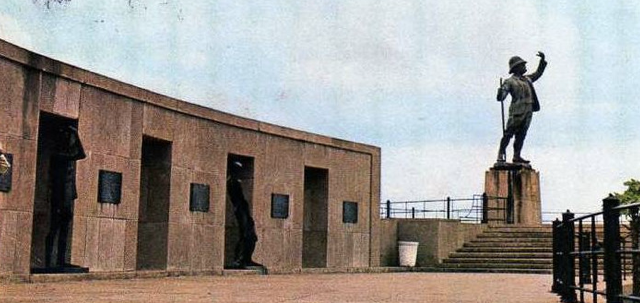 A tree buds, blooms, leafs, molts, buds
in a single week.
Say it right – Ahfrrikah.
Afternoon sky leaps from blue to black,
converting air to down-falling river.
Stops. Goes blue again and steams the ground.
All in minutes.
Ahfrrikah.
Something pointed, acid green,
breaks ground outside the window
and moves upward as we watch,
a coiled tongue, reaching fast
to lick the sun, straight above,
over Ahfrrikah.
Hyacinths mat the river, making islands
we could walk across to Brazzaville,
if the crocodiles did not like to idle there,
black eyes staring up from beneath
the carpet of foreign blue flowers
that stop the river's flow,
invaders who do not belong
in Ahfrrikah.
Priests on Vespas sputter along the streets
their robes and beards flying. Their order
does not require them to dress up like Jesus.
But the heathens they were sent to convert
know how a white holy man should look.
Their semi-Christians will tell you
Paul was here, with images of Christ.
The ancestors carved crucifixes
you can carbon-date to that time
if you don't believe them.
They want to know why we killed our God.
There is more than you know
to Ahfrrikah.
On a high bluff, overlooking the rapids,
long, lithe bronzes of African bearers
in loin cloths, their perfect bodies taut with power,
haul weapons and supplies for the head of the column,
squat Stanley, pot belly pushing out his khakis,
his pudgy hand raised to shade blue eyes
discovering their river.
As if no one were here
in Ahfrrikah.
In the Cité, a totally white being walks among his brown kin,
a shiver of ice in the sweating heat,
form and texture, Bantu. Color, none.
We, the peach-tinted, marvel that he's been allowed to live,
not smothered as evil, as villagers do an unwanted twin,
in Ahfrrikah.
In the Cité, the High Life plays and our foreign bodies
nod in time, as our hosts become the music,
moving liquidly within the pulsing laughter of the sound.
Politely, they do not point at their wooden guests
in Ahfrrikah.
A rumor moves through the Cité, gathers force.
Do not let your sons go to Louvain to study.
Les Belges tell you they will return, as doctors,
but they are lying. Here is how they return to us.
And the tin is passed from hand to horrified hand.
The one that offers corned beef with a label
of a laughing young man
of Ahfrrikah.
Blacks from America, Returnees, they think,
stare at facial scarring, at filed teeth,
at fishermen in piroques casting nets,
at calabashes moving smoothly on proud heads,
at round brown bellies that hold future Ahfrrikahns
protruding from their mothers' jubilant cotton swathing,
at eyes everywhere that judge these mixed-blood visitors
in beribboned straw hats and pressed khaki slacks
to be as foreign as Swedes. This is not Harlem.
This is Ahfrrikah.
Down the long slope of
the hillside, whole villages of
brown bodies pour towards
the house. The vice consul at
the door says Hurry. Grab
the kids. One suitcase. There's
no time. In the
walled compound of
the consulate, Marines at
the gates,
pale faces stare out
at the swelling river of
chanting, pulsing bodies
growing larger, getting louder,
damming up against the eagled
walls. In the one suitcase,
five neckties and
a bottle of bourbon.
Washington is sending
a plane to Brazzaville. Our one
chance a surprise break for
the vedette. A chain of
bodies, men the
larger beads
between the
children and
the women.
Don't let go
of your sister's hand
or mine,
no matter what happens.
We are leaving
Ahfrrikah.