Building with Christopher Alexander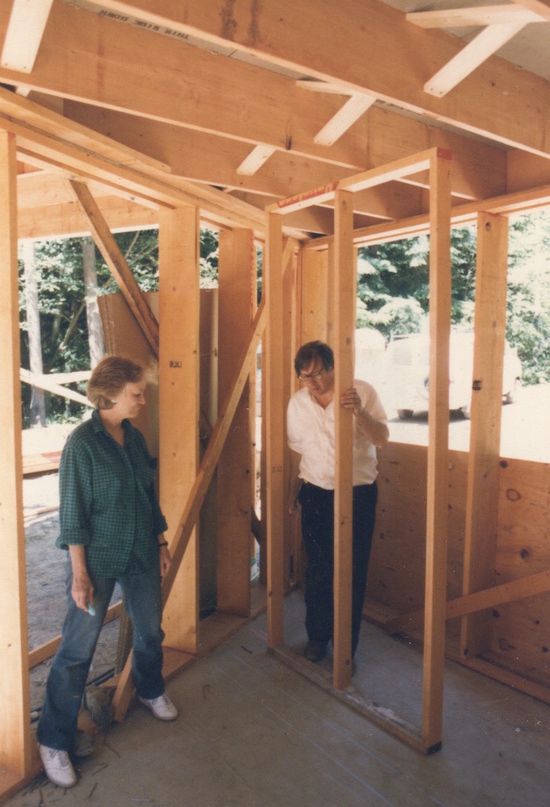 This is a record, in a growing number of words and pictures, of the extraordinary years that Christopher Alexander spent bringing a Pattern Language house into being on Whidbey, a wooded island in the upper western corner of the continental US.
Alexander operates as a Master Builder — rather than handing drawings to a contractor, he was on site again and again, shaping the building himself, from sticks in the forest to a structure that seems to have always been there.
You're invited to explore and experience the process here, in the notes and photos I made of a time that shaped our lives as well as a profoundly beautiful house. You'll also see the results in THE TOUR, pictures of what's here now, with stories of how the spaces came to be.
I'm digging in boxes and drawers and computer files, scanning photos, transcribing hand-written notes...it will all be here as I get it ready and upload it.
Come back often. Send friends. This story needs to be known.
Starting with a Dark Hole in the Woods, Coming to...
Chris was on site for days when it was a small clearing in a forest. He came empty-handed, but with brilliant engineer Gary Black, and our Medlock-Graham family, all of us fetching sticks from the woods, driving to a hardware store for yellow tape, and pounding the shape of the house into the ground—with rocks and shovels.
In the posts below there are more photos—lots more—of how we got from sticks and strings to a Pattern Language house, the only one Chris did in the US Pacific Northwest.
Note that this website formatting cuts off narratives at odd places and insists on all photos being the same size. It makes things awkward but I'm not up for rebuilding it all elsewhere in less annoying form. Do click on the strangely disrupted texts, to see the rest of the words.