I wrote poems for years without calling them that, without seeing myself as a poet. I stuffed them into drawers. Left them in computer folders. Nobody knew. I hardly knew myself. They didn't matter.
It began when I wrote some words as a gift to the people of Star Island NH, the temporary community of UUs (Unitarian-Universalists) with whom my sons and I spent a week every summer. I posted those words on a bulletin board there. Back in NYC I got a package in the mail. Someone had spent hours making an art piece from my words. "Unsaid on Star Island" meant enough to him to do that. Interesting.
I still stuffed my scribblings in drawers. Years of working on the Hedgebrook board to foster women writers' voices finally got to me in 2003. I was about to be 70 and no one had heard my voice. I could hear my NY editor, T George Harris saying, "Oh just bareass it, Medlock."
Knowing I had to take my shot, I created Bareass Press and Pagemakered a book of 70 poems, calling it Arias, Riffs & Whispers, Words Written for Voices. (Still not "poems.")
My 70th birthday celebration was a coming-out party—five great actors reading from the book—it was terrifying to go bareass, letting people into that so private world.
And it was wonderful. But it wasn't enough to convince me. I was still uneasy when I sent the book to a real poet.
I can say from long acquaintances with writers that most of us, myself included, suffer from imposter syndrome, as in, "I'm doing this writing thing but I'm actually not that good and somebody's gonna notice that and call me on it. I'm not really a writer."
There came such a moment, in spades, after a new-found clan member began sending me poems, extraordinary poems, every single day. I researched him and found a history that stretched back half a century, his bona fides including praise from Bukowski and a cohort of other "outlaw" poets—soldiers, cops, seamen, factory workers, cons… Not a twee line among them.
So. Sending him this woman's Arias, Riffs & Whispers was, as you can imagine, a bit intimidating. This awesome poet and I were now relatives. He might feel obliged to be polite rather than honest. I dreaded his response.
Then an email from him appeared that was not one of his poems. It opened with: "I began reading with all the open mindedness I could muster, and when you find yourself 'mustering' open mindedness, it means you have reservations."
Uh oh. He dreaded reading the work and possibly hating it. I'm nailed. Not a writer. And then I read:
"What reservations I might have had got swept aside with the first three poems I read, in the Pseudo-bio section -- "Saigon 1960" ... "The Guy from Cap d'Antibes" ... and "Ahfrrikah", which really hit me between the eyes.
"These poems have a gyroscope that keeps them balanced, and the language is limpid. Which is fine and dandy for any sort of writing. But what turns them into poetry, and good poetry, is the way you shape this language into a living moment, carry the reader (this reader, at any rate) directly into what you are describing, and then (and this is the crown jewel), pull the reader beneath the surface into the emotional matrix of the poem, make him one with it.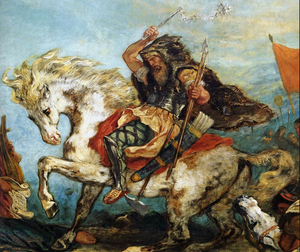 "The way I identify a really good poem is that it invades me like Attila the Hun. I become excited, agitated, and my mind starts to race. I feel disoriented, like a pygmy stepping out from under his forest canopy onto a savanna for the first time. Many of the poems I've read so far in Arias have done this to me, and reading three or four in a row that have this effect pretty much wrecks my day!"
At that point I had soaked three Kleenex with tears. And it went on.
"I went from Pseudo-bio to Sisters. I didn't start with Sisters because I dreaded being bombarded with bareass feminism. Imagine my surprise when the poems in Sisters hit me even harder than the poems in Pseudo-bio.
"Christ, I love the pithy, razor-sharp quality of "Miss Ena W's Fan". This quality comes out in a number of the poems, "The Guy from Cap", for instance. I laughed out loud, as I did in a number of other poems. And this is just one end of your broad (no pun intended) perspective and emotional spectrum. You render witches as full-dimensional and vividly human as anything I've ever read. And I have never read anything that better describes drowning than "Sea Sister".
"This all ties in with the way you pull the reader down into the matrix of the poem. What you also do in a number of the poems that I like very much is you handle a situation of tragedy and injustice by making the injustice a backdrop on which you etch the humanity of its victims; you use an injustice that detracts from humanity to enhance and fortify humanity; it's sort of like spinning gold out of straw.
"She Does Not Sing For You" totally captures what an incomplete man (and their numbers are legion) yearns for in a woman, some of which he might be entitled to if it were a reciprocal situation, and the last italicized stanza, "Vain, cold, soulless killer of good men—the bitch will pay", nails the hostility that comes forth when unreasonable demands are not met.
"In "Luisa" you again bring something to life better than I've ever seen it done–the 9-11 tragedy. I found myself inside one of those infernal towers for the first time. What makes this even more impressive is you did not (correct me if I'm wrong) experience that disaster firsthand, no more, I suspect, than you ever drowned.
"And good lord, you can be lethal with laser precision! "Spa" for instance. "Give us your tired, your rich, your/yuppie gringas yearning to/stop hyperventilating,/trying for some reason to be bonier." Shit! Wonderful!
"And "Delusion"—"The trainer of mounted police tells his men/to see rabbits when they must control/an undesirable crowd. When the cop/rides over the hippie hunched small/over her fallen child's fragility he/does not see a mother and son/he would give his life for at/any other intersection--/he is clearing a street of rabbits."
~~~~~~~~~~~~~~~~~~~~~~~~~~~~~~~~~~~~~~~~~~~~~~~~~~~~
So here I thank the Poet John Bennett for blasting away my imposter syndrome, for punching my admission ticket to the world of real writers.
The poems John mentioned in his letter are hot-linked here, and I'm putting others online expeditiously, because I have things to tell you, places to take you, feelings and thoughts to impart.
May the poems invade you, excite you, agitate you, make your mind race, make you laugh out loud, blow the top of your head off, pull you into the matrix of the poem, and make you one with them.
Because that's what poems should do. And I am a poet.
About Arias, Riffs & Whispers—
"When a wise woman turns to poetry, witches become light, hills are lion women, a grandfather may be dangerous, and God's attention gets called to beauty. Join Ann Medlock in turning poetry into real life, and real life into poetry." — Gloria Steinem
"Beware! These poems stay with you for days—they affect the way you see your world and your place in it. Ann Medlock is a life force; it's rare to know one. Here's your chance." — Goody Cable, creator of the Sylvia Beach Hotel, a reader's paradise
"Ann Medlock's poems achieve an almost impossible perfection: they are impassioned and witty, profound and serenely beautiful, elegant and colloquial. Quite simply, they represent language at its finest." — Andrew Carroll, editor of 101 Great American Poems, co-founder of the American Poetry & Literacy Project.
Arias, Riffs & Whispers; Words Written for Voices is a collection of 70 poems that range from witty, short riffs to full-blown dramatic arias about war, art, heroes, life, death, God, music, love—the stuff and substance of being alive.
Author's Note: The Amazon site is saying they don't have many books. Not true. Last time I looked they actually had 90. Go ahead and order however many copies you want. Just not 91.
You can read many of them right here, with illustrations that aren't in the book. And it would also be lovely if you bought a copy. Buy several—you must have some friends who like poetry. Well, one friend?
If Amazon is still being cranky, email dromnavarna@gmail.com and you'll for sure get a copy.