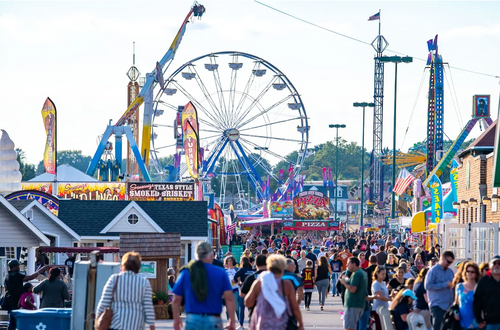 He's bested bullies in schoolyards,
dodged descending barstools,
maneuvered mine fields,
lost eleven buddies in the Gulf,
heard a hundred women
howl the deaths of their men.
Decades of evasive action leave him
wary that his luck won't last,
weary of adrenaline bursts,
yearning for tranquility.
The perfect job makes it all go away,
running a bright blue Ferris wheel,
selling tickets to kids and couples,
snapping the bar to hold them in place,
high over the streets and fields
of whatever town the carnival has come to.
The old wheel has constant quirks,
the gears and belts a cinch to fix.
A few deft moves of his competent hands
and it ratchets back into action,
lifting its laughing cargo high and fast,
not like the wussy wheels old ladies like.
Bluest of skies, every seat taken,
he laughs at the giggling girls
and sends them all soaring.
Something in the old motor stutters.
He's there in a few swift strides
bent, looking for the malfunction.
The whirling wheel catches
the ponytail he's grown to show
he's no longer at war
yanks him up by that hair
snaps his spine on a high frame
hurls him dead to the ground.
The spinning girls' squeals turn
to blood-spattered howls
for a man, the smiling carny man,
killed in a quiet country town.
By a bright blue Ferris wheel.