JOSEPH CAMPBELL'S POCKETS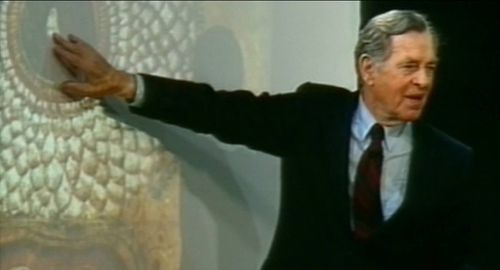 What do you know, Joe,
after all that study, all that tracking
of humanity's search for the sacred,
for import, for course coordinates?
A veritable Harpo of revelations
he pulls from a vest pocket "Natural Music"
and tells us that Jeffers got it right:
to be holy is to be strong enough to hear
beauty in the world's storms and rages
without divisions of desire and terror.
A back pants pocket yields a wallet
and a tiny newsprint clipping in which a Honolulu cop has,
on sight, proffered his life to save a stranger.
Unconditionally living in unity, namaste incarnate,
dwelling always in the field of chi, feeling it pulsing through
us, it, them, that, no divisions, no judgments, no fear—
all the great scholar's learning distilled in a few lines,
plain, clear, and—
enragingly, divisively, terrifyingly—hard.
.
Have you another nugget, Joe,
perhaps an easier one,
in some other pocket?