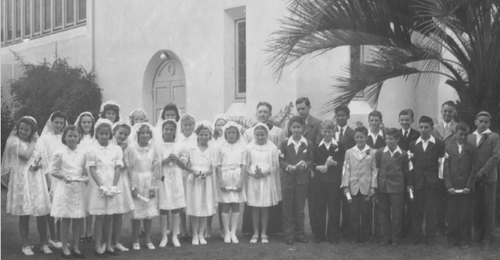 Elastic in her veil squeezes her head, the tulle scratches,
stockings crawl foreignly over her spindly legs.
She hopes that Sister Eulalia will click the cricket soon
so she can stand and the garter belt buttons will
stop digging the backs of her bony thighs.
She looks up at Our Lady smiling down and asks,
"How do women wear these things?"
Growing up just may be a terrible idea.
It's not their Father Ryan on the altar,
it's the bishop himself so there is no telling
what comes next but soon, soon, she needs to know
whether to follow the clicker to the communion rail
or to stay seated here, alone, on the buttons,
while her catechism classmates get confirmed,
a public humiliation to her mother
in front of all the neighbors she has brought
to watch her daughter's debut as a grownup Catholic.
But if she goes up there with the class,
she's also going to hell, unless of course
she can convince the Blessed Virgin Mary
to talk God out of it.
They should have had confessions this morning.
Yesterday was just too long ago.
She'd had a day's worth of sinful thoughts since then.
But there's a war on, you know.
Zeroes could be leaving their carrier
just over the Pacific horizon
even as she waits here, in this pew,
talking to the Virgin.
A direct hit on the church, next time
she steps out of the confessional,
shiny clean, ready for heaven—
she doubts seriously there's any other way
she'll ever make it, no matter how well
the BVM may present her case.