From the Jane Austen room of the Sylvia Beach Hotel, a reader's paradise,
"Outing the Mermaid is Jane Austen with sex."
– Goody Cable, Hotel Proprietor
Outing the Mermaid is a journey into the 1960s and 70s world of civil rights, feminism, Vietnam, gurus, Mafiosi, the Pill, the Beatles, class distinctions, astrology, New York, and the eternal mystery of what's going on between men and women.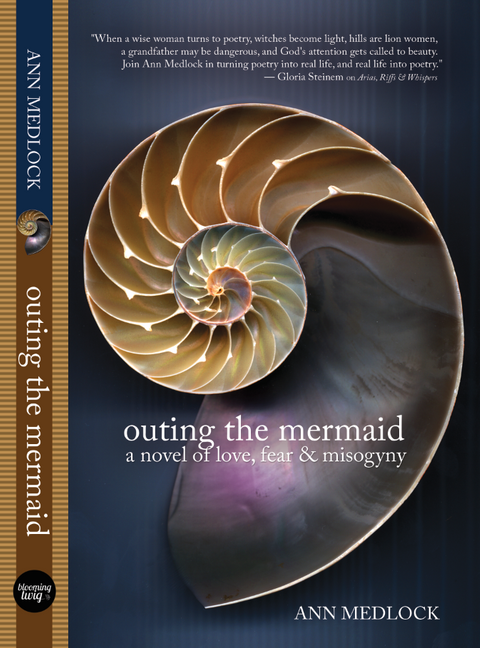 "Medlock's ripping yarn will be on my shelf next to Amy Tan, Thomas McGuane, Wallace Stegner and Barbara Kingsolver." — Peter Tavernise
Free PDF of discussion questions
Special Literary Feminist Kit (book + feminist office supplies)
Watch the Book Trailer.
more
Also by Ann Medlock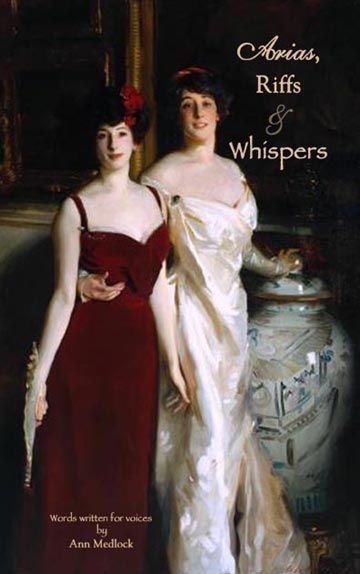 "When a wise woman turns to poetry, witches become light, hills are lion women, a grandfather may be dangerous, and God's attention gets called to beauty. Join Ann Medlock in turning poetry into real life, and real life into poetry." — Gloria Steinem
"Beware! These poems stay with you for days—they affect the way you see your world and your place in it. Ann Medlock is a life force; it's rare to know one. Here's your chance." — Goody Cable, creator of the Sylvia Beach Hotel, a reader's paradise
"Ann Medlock's poems achieve an almost impossible perfection: they are impassioned and witty, profound and serenely beautiful, elegant and colloquial. Quite simply, they represent language at its finest." — Andrew Carroll, editor of 101 Great American Poems, co-founder of the American Poetry & Literacy Project
Arias, Riffs & Whispers: Words Written for Voices is a collection of 70 poems that range from witty, short riffs to full-blown dramatic arias about war, art, heroes, life, death, God, music, love--the stuff and substance of being alive.
Ann Medlock is founder of the Giraffe Heroes Project. She blogs at the Huffington Post, at OpEdNews and on her own web site. A former speechwriter to US politicians and to the Aga Khan, she has also been a public radio commentator, a freelance copy writer, and an editor at Macmillan. She has spoken to audiences all over this country as well as in Moscow and Beijing.
Author's Note: The Amazon site is saying they don't have many books. Not true. Last time I looked they actually had 90. Go ahead and order however many copies you want. Just not 91.